Meet the team

who'll be taking care of your pet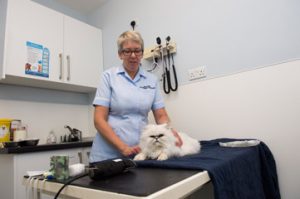 Mandy Clarkson BVM&S, MRCVS
Co-director & Veterinary Surgeon
Mandy first started working at Riverside Vets back in 1986, and together with Graeme took over the practice in 2001. This means that as well as consulting with patients and their owners on a daily basis, she also spends much of her time running the practice and overseeing day-to-day details.
Mandy's favourite part of her job, aside from the support and camaraderie amongst the team, is having the opportunity to treat sick or injured pets until they are well enough to return home to their invariably happy owners!
At home Mandy has three dogs of her own – Dandie Dinmont Terrier Flora, an Irish Water Spaniel called Rory and the newest recruit is another Irish Water Spaniel puppy called Esther.
Graeme Sherriff BVM&S, MRCVS
Co-director & Veterinary Surgeon
Graeme initially joined Riverside Vets in 1992 as an assistant to the owner, and joined forces with Mandy to take over the running of the practice following the owner's retirement in 2001.
On a day-to-day basis Graeme is responsible for the overall running of the business, along with Mandy, but also enjoys the veterinary care side of his job. He particularly likes the challenge of treating the variety of animals that come into the practice, and advising owners on the best care for their pet.
At home, Graeme has an extensive collection of animals to take care of: two dogs, three rabbits, three cats, three marine fish tanks and a leopard gecko!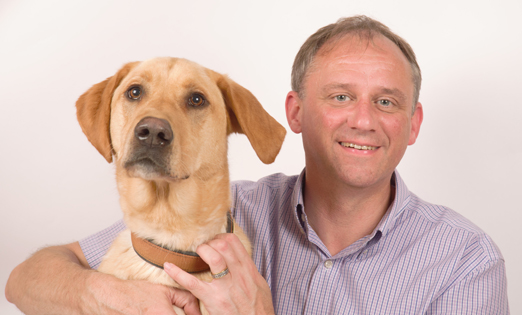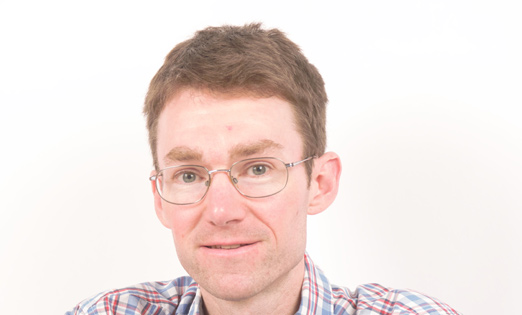 David Berrill BVM&S, MRCVS
David joined the practice in 2004 and is one of five veterinary surgeons on the team. This means that his days are normally spent either consulting or operating, but he also monitors the progress of inpatients to ensure they respond to treatment and recover well.
David says that his favourite part of the job is getting a positive result from a challenging or difficult case, and he enjoys finding the best possible course of action for each individual patient.
At home, David is kept busy by his Border Terrier called Brodie.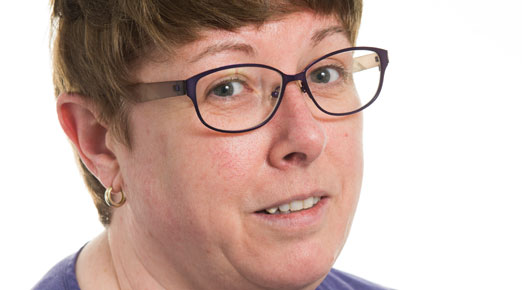 Lesley Strong BVM&S, MRCVS
Hannah Bills-Brown BVMS, MRCVS
Fiona graduated from Glasgow Vet School in 1998. She started working with us at Riverside in 2015 and really enjoys it. Her favourite thing about her job is being able to help animals with chronic pain such as those suffering from osteoarthritis. Fiona's area of special interest is Acupuncture and is one of only a handful of vets in Scotland qualified to carry out Western acupunture. Outside of work, as you may expect, she has a few pets as well as three children and a husband. Fiona recently rehomed a little dog from Dogs Trust and also has a cat, two tortoises, a budgie and some beehives.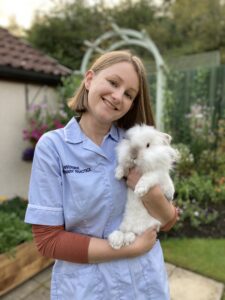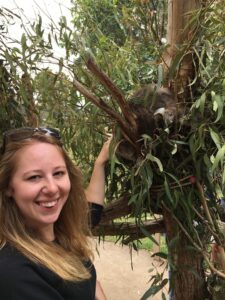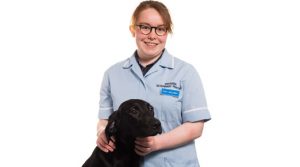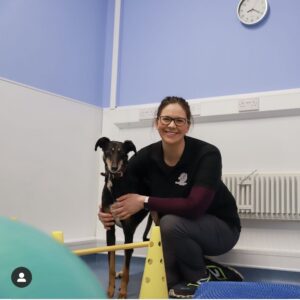 Charlotte Swarbrick
Veterinary Physiotherapist
Angela has been a member of the Riverside Vets team since April 1995, and spends her days at work making sure everything is in order and that patients and their owners are looked after properly. She is responsible for a variety of nursing tasks including pre-operative assessments and anaesthesia on surgical patients, carrying out health checks, and administering medication where necessary.
Angela knows the importance of seeing animals return home once they have been successfully treated, as she is the proud owner of Seoras 'the wonder dog'!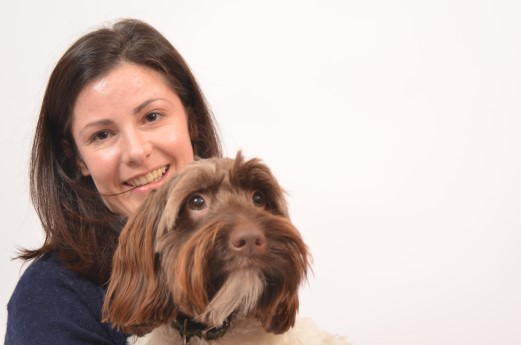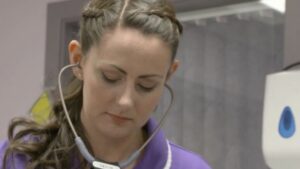 Kay Morrison RVN
Lead Clinical Veterinary Nurse
Genna has been a member of the team since 1999 when she started as a nurse and went on to become a clinical coach teaching and assessing student veterinary nurses. Since returning from maternity leave last year Genna has decided to put her nursing duties to the side and now works as our insurance administrator.
Genna and her partner welcomed the beautiful Gracie to the world (and the Riverside team!) in October 2017. At home Genna has her own animals to look after – Slim the cat and Wallace the dog.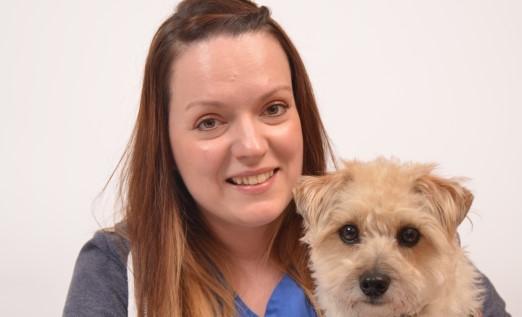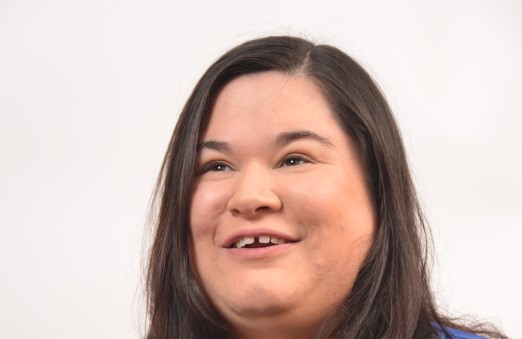 Lynette Gregory RVN
Registered Veterinary Nurse & Clinical Coach
Lynette joined Riverside Vets in April 2004 and has a varied set of daily duties including anaesthesia, assisting in theatre, looking after inpatients, and other general nursing responsibilities.
She particularly enjoys running dental clinics and advising owners about dental hygiene for their pets, as well as making sure the waiting room is well presented and welcoming at all times.
At home, Lynette has a little border terrier called Alfie.
Ezara Dwane RVN
Registered Veterinary Nurse & Clinical Coach
Ezara started at Riverside in 2009, she completed her training at the practice and qualified in 2015. Ezara particularly enjoys nursing medical cases and has a particular fondness for elderly felines and the occasional reptile patient that we see. At home she has two cats – Mog and Megatron, two Hermann's tortoises Rita and Walter and 4 snakes: Escobar a california kingsnake, Guzmàn a kenyan sand boa, Ana a western hognose and Don Neto a blood python. When not keeping up with all of her own pets Ezara also has a keen interest in bats and is a member of the Scottish bat conservation trust. Ezara's favourite thing to do in her spare time is trying new food and watch Netflix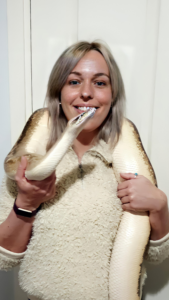 Lyndsay Kennedy RVN
Registered Veterinary Nurse
Lyndsay joined us in 2016 and has over 6 years' experience in the profession. She particularly enjoys assisting with the x-rays of your pets, as well as weight clinics and dentistry.
When not at work she has a varied social life from playing rugby, knitting, choir, piano and baking.
Lisa Morris RVN
Registered Veterinary Nurse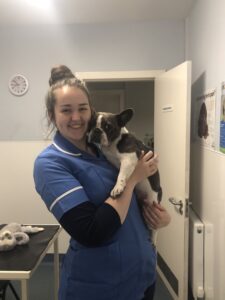 Laura Fyfe RVN
Registered Veterinary Nurse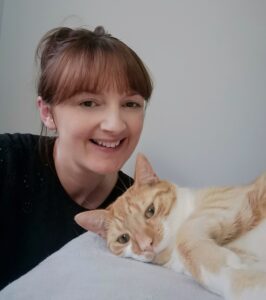 Fiona Watson RVN
Registered Veterinary Nurse
Alana Armstrong RVN
Registered Veterinary Nurse


Nicola Davidson RVN
Registered Veterinary Nurse
Wendy Flynn RVN
Registered Veterinary Nurse
Wendy qualified in 2013 from the College of Animal Welfare in Edinburgh. She started at Riverside in January 2019. Wendy has a particular interest in feline and exotic nursing. Her favourite part of her job is taking care of inpatients especially cats and guinea pigs.
At home Wendy loves looking after her cat Gus and mischievous hamster, Bernadette!
In her spare time Wendy loves to travel and prior to joining the team at Riverside had recently returned from working as a nurse in Australia. She also loves arts & crafts and having tea and cake with friends. Jenny Love RVN
Registered Veterinary Nurse
Becky Waite RVN
Registered Veterinary Nurse Sascha Priestley
Student Veterinary Nurse & Animal Care Assistant
After working as a full time receptionist with us since April 2017 Sascha has recently made the decision to follow her dreams of becoming a veterinary nurse and been accepted to study at Napier University. Thankfully we have managed to keep her working with us at weekends and she does a combination of kennel work – looking after in-patients, running blood tests etc and still some reception work.
Sascha is known for saying hello to the animals that come in and especially giving out cuddles to puppies. When not working Sascha is usually found with her face in a book or chilling with her pug Lola. Mary qualified as a Registered Veterinary Nurse in 2005. She worked with us for a short spell in 2008 before following her dream to work in charity at a Dog Rehoming Centre for almost 10 years. When the time came and she decided to hang up her nursing uniform we were delighted to welcome her back in a less hands on role.
Mary's role is very varied, she is usually hidden behind the scenes looking after all your email queries, human resources and accounts although she never misses an opportunity to pop out to reception to put faces to names and cuddle your pets.
Out of work Mary enjoys spending time with her 2 cats, Gary and Ruby, as well as family – in no particular order! Her hobbies include walking, running and reading.
Margaret was initially part of the team at Riverside Vets between 1988 and 1995, and then rejoined in 2012 and has been with us ever since! She works on reception and is probably the first face you'll see when you come in for your appointment with us.
Her days are spent meeting and greeting clients and getting to know their pets, as well as general administration duties – booking appointments, answering the phone and keeping records in order!
At home Margaret has two dogs of her own.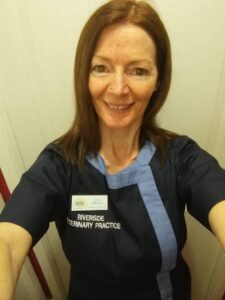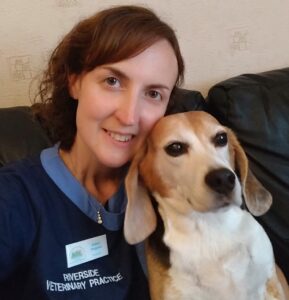 Karen joined us as receptionist in 2017 after moving from Edinburgh where she ran her own petsitting business for 6 years. She has also volunteered with Lothian Cat Rescue and Paws here, a rescue and rehoming centre for rabbits. Karen has certificates in Animal Care and Veterinary Terminology and has recently completed her Bronze Veterinary Receptionist Award.
Karen also has previous reception experience when she worked for Clarins in Jenners department store as Head Therapist for 6 years.
When not at work, Karen enjoys spending time with her family and wee Shih Tzu dog Kayla.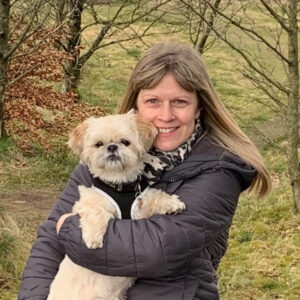 Kim has a HNC in Animal Care. After 12yr working in management for a major retail business, Kim has joined our growing Reception team. You will meet Kim on entering the practice where she will book you in, help with any queries you have. Kim says the best part of her job is meeting all of the lovely animals that come in to Riverside. When not at work Kim spends most of her spare time with her two dogs Lucy and Beth. Kim is also a keen photographer and theatre goer.